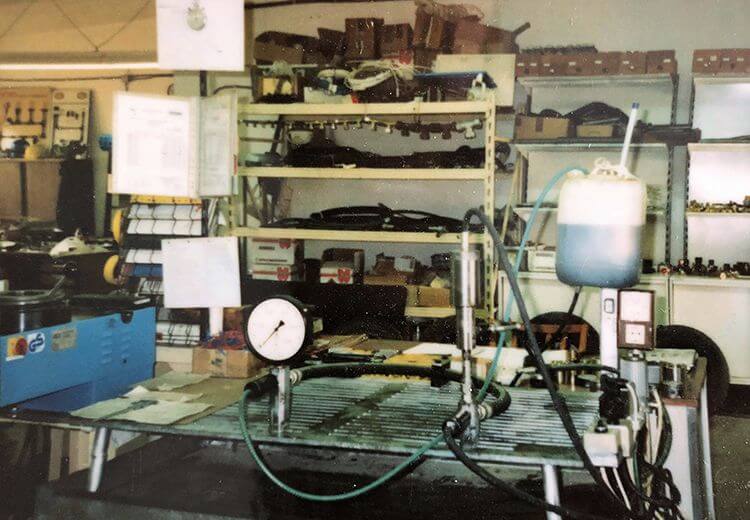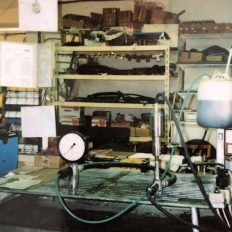 Glance from the past till now…
Since 1998
HIDRAULICA SRL was founded in 1998 with entirely private Romanian capital. In those years it was among the first companies in Romania offering modern hose crimping services, using Dunlop Hiflex hoses and fittings. In our small workshop equipped with lathes and milling machines, we were able to serve also customers with needs of special hoses and adapters. In time, this division grew, and now we have the solution to connect anything with hoses or tubes, hydraulic or pneumatic.
The collaboration with Volvo Hydraulic/VOAC, later part of Parker Hannifin gave us the opportunity to start servicing mobile hydraulic systems, such as construction and forest machines. The Hydraulic Systems Division was created, and today this is the heart of the company, solving hundreds of requests yearly in the field of mobile and industrial hydraulics.
The first milestone was achieved when our first seals machining CNC lathe was acquired from Economos (now SKF), being among the firsts in Romania. With this machine we were able to produce any seal profile and size in very short time, having various raw material on stock. Collaboration started with industrial manufacturing companies, who needed high quality seals and sealing solutions quickly. Now with 4 machines we can satisfy any request, whether it is a standard or non-standard seal.
In the same time with our Seals Department, the Cylinders Division was created. Extending our workshop with metalworking machinery and optimized stock of raw materials, such as honed tubes, chromed bars, seals and other cylinder components, we managed to offer quick response to our customer's needs: repairing and producing standard and special cylinders. Step by step we achieved producing or repairing over 3.000 cylinders/year. We like challenging projects, therefore we are looking forward to design and manufacture or repair special cylinders – because we can do it.
Our products portfolio was enriched with additional products (e.g: industrial hoses, directional and pressure valves, proportional valves, hydraulic pumps, pneumatic products, tipping systems and PTOs, rotators and log grapples, coolers, ball valves, needle valves, quick couplings, tube fittings, standard seals, pressure gauges, aso.) from world wide known producers: Parker, Aignep, Baggerman, Casappa, SKF, Kracht, Walvoil, ASA Hydraulik, Snap-Tite and others.
With these products we covered not only mobile hydraulics market, but also offered complete solutions in industrial hydraulics: custom made systems and machines, test benches, pumping units and cylinders. To be always prepared for the customers' needs, several test benches were built: testing hydraulic pumps, motors, valves, cylinders, hoses and systems are standard services we offer for our customers.
The next big step in our company's history was entering the high-pressure market, offering components and systems up to ultra high pressures:
As exclusive distributor of Autoclave Engineers, we were among the first companies in the country to offer components up to 10.000 bar (150,000 psi). Based on the market's needs, we are now offering the whole range of instrumentation products: tubes, fittings, valves, pressure vessels, gauges, sensors, aso. from low up to high-pressures, standard and exotic materials.
In order to fulfill our customers' needs, we were certified by Polyflex for crimping & testing (in our own workshop) high-pressure hoses up to 4.000 bar (60,000 psi), ensuring short time delivery for several types and sizes of thermoplastic hoses.
Collaborating with a company expert in superpressure technologies, we design and manufacture components and systems with working pressures up to 16.000 bar, e.g. isostatic presses, high-pressure test stands, pasteurization and homogenization plants, bursting pressure test stands and customer-specific high-pressure plants set.
Having several test benches and systems, we can offer special services, such as pressure tests for our customers, autofrettage parts and bursting tests in safe conditions and with SBEx certification we offer training for the customer to increase safety in designing or using high pressure systems.
Becoming Enerpac distributor was the next challenge. Now we offer a wide variety of high pressure industrial tools, such as cylinders and lifting products, pumps, valves and system components, presses, pullers, bolting tools and also solutions for heavy lifting.
With advantages like reliability and high quality, short delivery terms and lifetime warranty… these products became an industry standard. And many of them are at your disposal at our company.
Just contact us for more details.
Present and Future
Thinking Ahead
Lately we were appointed by Eaton as distributor for hydraulic components, enriching our products portfolio with additional premium products like directional valves, pumps, motors, hoses, aso. We are looking forward for your inquiries for these products also.
As a brand independent company we are convinced that by offering a wide array of brands we can provide our clients with the best services available considering quality, price and availability. This is why we are looking forward to strengthen our relation with our selected suppliers and our customers.
Although we focus on premium producers and suppliers, we know that our customers' needs, specifications or requests can not always be met with standard products by our partners alone. This is why we became partly Original Equipment Manufacturer ourselves, focusing more and more on custom made solutions by integrating premium products to in high quality, durable and safe final product.
Giving the customer a quick and efficient solution is essential for high quality hydraulic services where time is always a factor so, being close to our customer is an asset. After all, to meet our customers needs is our mission.