News
Discover the latest projects, newest collaborations and most recent custom made solutions.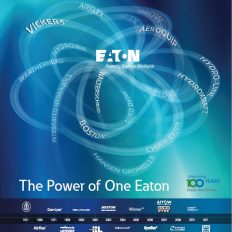 Enlarged product portfolio with EATON
May 2017

To serve our customers' needs better, we are now offering also Eaton Hydraulics products as official Eaton dealer. This means new products, lower prices, shorter delivery terms and better customer support service.
About Eaton
"Eaton is a power management company with 2016 sales of $19.7 billion. Eaton provides energy-efficient solutions that help our customers effectively manage electrical, hydraulic and mechanical power more efficiently, safely and sustainably. Eaton has approximately 95,000 employees and sells products to customers in more than 175 countries."
"Whether your products move, turn, shape, mold, lift, dig, or haul, you can depend on Eaton's hydraulics products to deliver the performance you need to stay competitive. Eaton's unwavering dedication to leadership in mobile and industrial applications has made Eaton one of the world's preferred suppliers of hydraulic systems, parts, controls and engineered solutions."
Eaton pumps, motors, transmissions, valves, cylinders, controls, hose and fittings offer a unique combination of proven technology and innovative design that translates directly into reliable performance and enhanced uptime. Whether you need a single component, a custom-engineered solution, or anything in between, Eaton is the partner of choice for mobile and industrial applications that simply have to work." (Source: eaton.com)
For more info about the hydraulic products, visit Eaton's website.
We are official ENERPAC distributor
January 2017

Being official Enerpac distributor we offer now the full product range for 700 bar (10,000 psi) high pressure hydraulics, from simple components to high complexity computer controlled, electrohydraulic systems for synchronous heavy lifting. Beside standard products, we now have the know-how for heavy lifting technology to support the customer in the heavy projects.
About Enerpac
"Enerpac is a global market leader in high pressure hydraulic tools, controlled force products and solutions for precise positioning of heavy loads. We manufacture products, from the smallest hydraulic cylinder to complete computer-operated lifting and positioning systems.
Our focus is to provide our customers with the most extensive line of products and accessories that maximize force – to increase productivity and make work safer and easier to perform."
For more info about, visit Enerpac's website.